On this page you'll find out: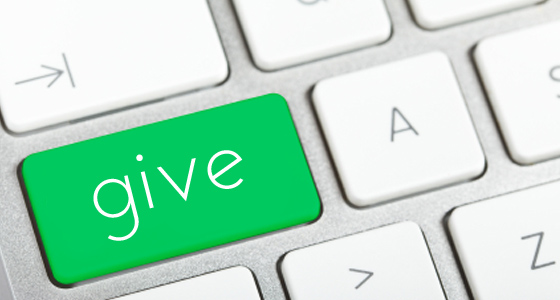 How online donations could benefit you
What other partners are doing
Which online donations platforms you could use
Advice on how to choose one
Donations from online shopping websites
How to link to an online donation site
How could online donations benefit us?
Online donations are a great way of boosting your income. In 2015, 16% of charitable donations were made online (Charities Aid Foundation UK Giving 2015 report).
A report by Barclaycard in February 2017 found that charities may be missing out on an estimated £80m in donations each year by only accepting cash donations.
Higher percentages of online giving are most often associated with social care and services not-for-profits, something which relates to the type of work local partners are doing. (Blackbaud, 2014)
If you're not providing a way for people to donate to you online, you could be missing out.
What are other partners doing?
75% of partners are now able to accept online donations. Partners are using a wide variety of online donation websites. The most popular are Just Giving, BT My Donate, and Virgin Money Giving.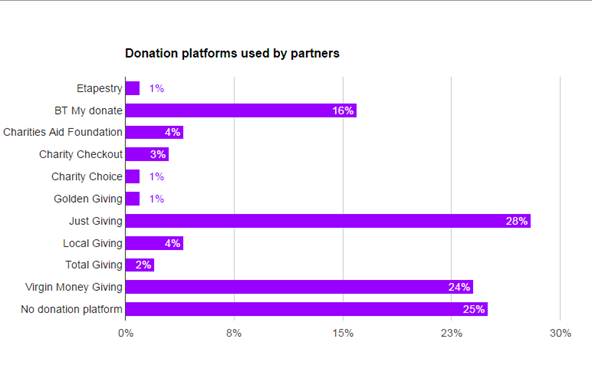 Which online donation platform should we use?
Not sure which one to try? Here's what you need to know about the three most popular online donation platforms that partners are currently using.
Website
Set up cost
Monthly fee
Transaction fee
Processing fee
Virgin Money Giving
£150 + VAT
£0 a month
2% of donation
1.45% of donation for credit and debit cards, 1.6% of donation for
American Express and PayPal
Just Giving Online donations
£0
£15 a month + VAT (if your charity,raises less than £15,000 per year on JustGiving, including Gift Aid. For charities raising more than this, the monthly fee is £39 per month,plus VAT).
5% of donation and gift aid
Up to 1.3% of donation for credit cards, 17p for debit cards and 1.45%
of donation for Paypal
BT My Donate
£0
£0 a month
0%
15p for debit cards, 1.3% of donation for credit cards
The network is also using a variety of other platforms, including Local Giving and Charity Checkout. There is a newer online donation platform called The Wonderful Organisation too, launched in October 2016, which promises to pass on all funds with no deductions.
 How do we choose one?
Age UK don't recommend a particular platform, but here's some advice on how to choose one:
Don't choose solely on the basis of the fees charged. Also check the functions and personalisation each one offers to make sure it suits what you need.
Ideally, pick one platform to use. Some partners have used two or more. If you choose one, you can ensure that all users go the same place to make their donation and you can promote that platform using the logo on your website. Adding two, three or more links and logos will confuse users.
Donations from cashback websites
There are also websites which allow people to donate to you at no cost to them as they shop online or surf the internet. This isn't the same as people making a direct donation. Rather, the websites allow people to shop online at normal prices, but a commission is generated and this is what forms the donation.
This shouldn't be seen as an alternative to accepting online donations, as they don't allow people to make a direct donation, but it is another potential way to increase income online.
Here are some of those sites:
Linking your online donation site to your website
We recommend placing a link to your online donation site prominently on your donations page. Some partners have linked to their online donation site directly from the Donate button on their website.