This is an alert panel, it is not a cookie compliance panel, which would allow users to opt in or out of tracking cookies
Age UK are currently investigating a compliance panel solution for the network. You can read more about this in the Data Protection Guidlines page
Cookie alert notification
You can add a Cookie alert notification to your Website

To add the Cookie Panel, firstly go to your Site Settings and then select Header.
You'll then see the following info box: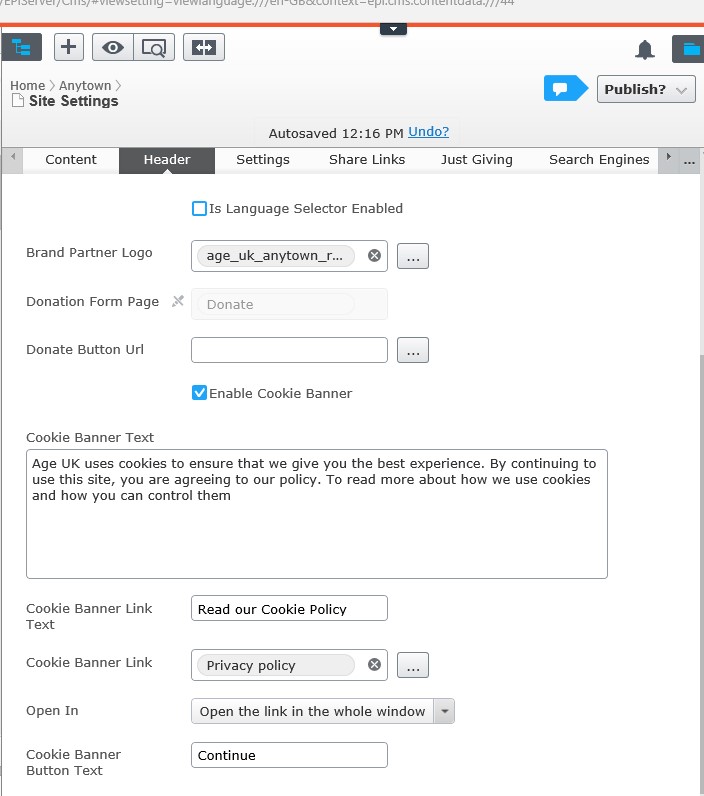 The Cookie Banner Text box may be blank when you login. Please fill this out with your Cookie guidance – Age UK national uses the following:
Cookie banner text:
"We use cookies to give you the best experience. By continuing to use this site, you are agreeing to our policy. Read more about"
Cookie banner link text
"how we use cookies and find out how you can change your browser's cookie settings."
The Cookie Banner Link Text could link to your Privacy Policy page which should already refer to Cookies. You should also mention the steps for turning off cookies for each browser.
Once filled in, ensure Enable Cookie Banner is ticked to switch the banner on and then click Publish.
You Cookie Banner will then look something like below.
Our full guidance on Cookies can be found here.

Cookie policy page
You can also create a specific cookies policy page on your website using the CMS, you can do this in the settings page, and it will put a cookie link in your site footer.
You will just need to create a page called cookie policy in your help pages. Guidance on creating new pages.
You can also put a link called Cookies in the footer of the website, by linking to this page from the site settings.