Age UK national website has a virtual assistant which can answer specific Information and Advice questions that your users may have.
There are various options for the network to use similar technology on your own local websites.  These are not supplied by Age UK so some will have a cost associated.
Creative Virtual
The Age UK National Website Chatbot/ virtual assistant is supplied via Creative Virtual; this can be segmented for use on the local partner websites.  There is a yearly cost involved for the partners.  It will automatically answer questions drawing from the Information and Advice Knowledge base that the Age UK national site uses.  You can also add a local flavour benefit specific area of benefit knowledge bases that only you can see, or that can be shared with other partners.
You can also activate the chat to an advisor functionality for live chat with a dedicated member of your advice staff, or via voice.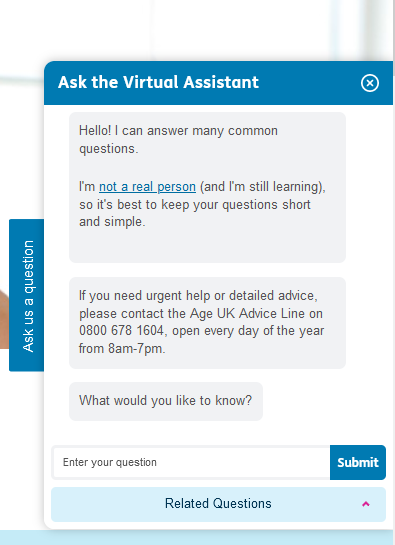 Disruption works
Disruption works offer a similar product as Creative Virtual, but it is not tied into the national Information and Advice knowledge base.
They do not have any commercial agreement with Age UK national.
Tawk.to
This is a free plugin that can allow you to have a chat function on your website, it doesn't supply any automated answers and will only work if a member of your staff is logged in to chat with the user who is making the live enquiry on your website